Adding PrimeHumic to the feed has several (financial) benefits for raising dairy cattle:
Our products show that the health, productivity and lifespan of your dairy cattle are improved, with a lower burden on the environment.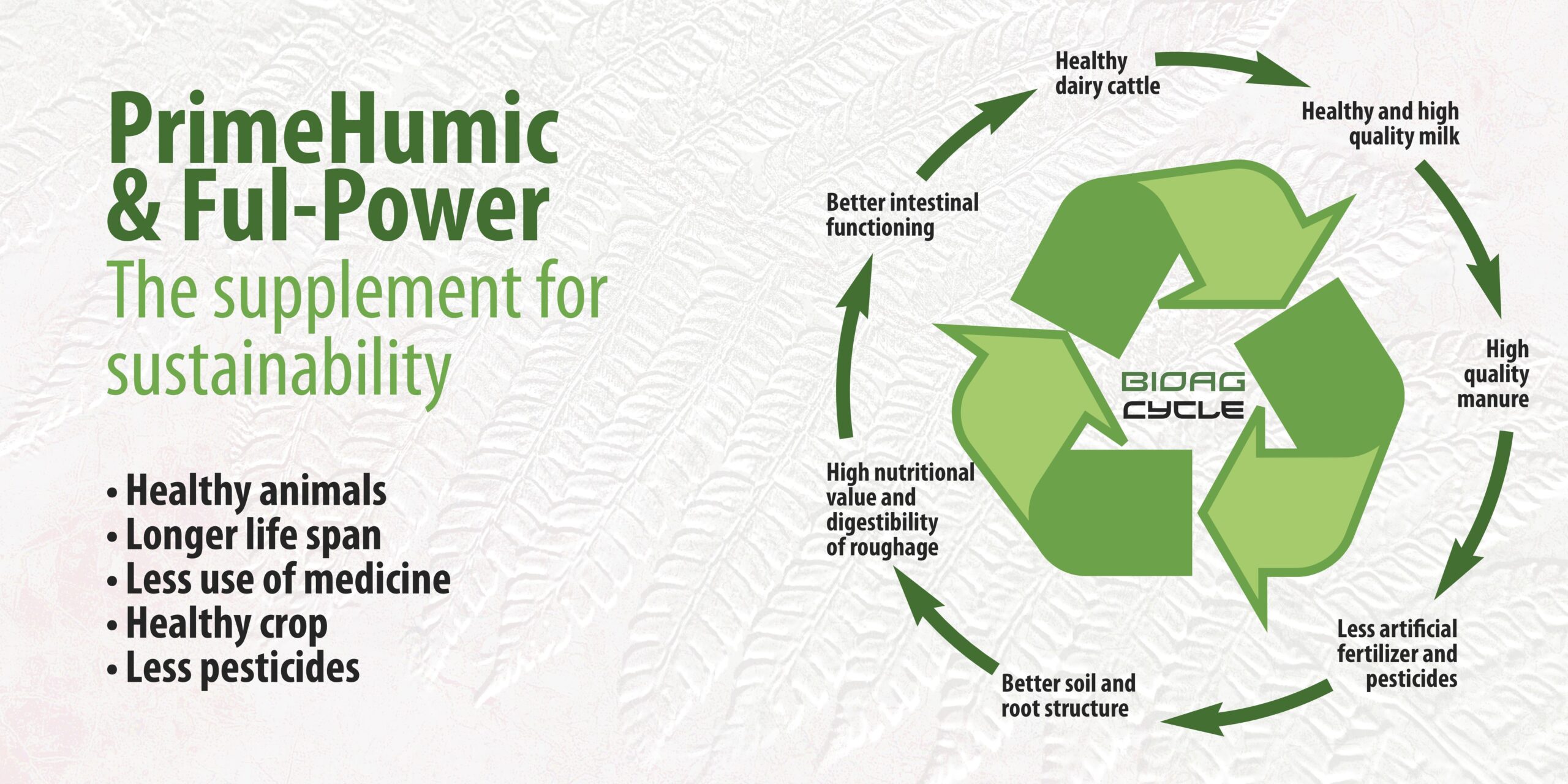 Multiple financial benefits when using PrimeHumic due to, among other things, increased milk levels and improved intestinal health.
All this for only €0.059 per cow per day!

Practical example at food supplier Agrifirm
Practical example at food supplier De Heus
So you can achieve a profit of € 27,000 per year!
The financial result of an increase in feed efficiency varies per farm and is dependent on a number of factors:
The milk production level of the cows, the energy and protein coverage, the roughage quality, the average age of the animals in lactation, the lactation stage of the herd and the percentage of ensilage and feed value losses.

Other dairy farmers about the use of PrimeHumic
Our cows suffer from a too high acidity; for this we use PrimeHumic with lime. We had stopped using this for a short time and immediately the acidity rose again. We immediately started using PrimeHumic again and the acidity dropped again.
– Dairy farmer from Nijkerk with 30 cows
PrimeHumic can reduce antibiotic use. PrimeHumic is an excellent supplement to the feed to improve health, preferably preventively.
– Veterinary surgeon for farm animals with a working area of ​​Utrecht & South Holland
We have far fewer mastitis cases. In the event that the animal has a hard or swollen udder, we can often remedy this with the help of mint and a painkiller. In the past we would have to use penicillin straight away. It looks like the natural immune system is strengthened in our cows.
– Dairy farmer from Bornerbroek
The manure is good and we need to mix much less; because the manure digests better it smells less and most likely has less ammonia. After we started using PrimeHumic, the feed efficiency went up. My feed supplier makes a calculation of how much my animals should ingest, but I always have feed left.
– Dairy farmer Van Schaik with 95 cows
PrimeHumic is active in the intestines and promotes the absorption of nutrients, vitamins and and minerals. Keep your farm animals healthy and strong!
From our own research during multiple years it appears that in dairy cattle, supplementing with PrimeHumic leads to: increased milk production, a higher fat percentage, improved feed efficiency, reduced feed costs, fewer cases of mastitis and fewer problems with insects and stress. When PrimeHumic was given to calves, they grew faster, while at the same time fewer diarrhea problems were observed.
Glyphosate in your dairy cattle:
PrimeHumic improves bowel health

First 7 days: 5 grams per 100 kilograms of body weight daily. This is to remove the glyphosate from the body.

After 7 days: Now the dosage can be reduced to 0.5 grams per 100 kilograms of body weight. This is a maintenance dose to bind and dispose of glyphosate that enters through food and other sources. In this way, glyphosate does not accumulate again in the body of the animal.

Improved quality of manure

The use of PrimeHumic results in less undigested residues in the manure. In addition, the manure smells less and the manure quality is better for the soil. You will see an improved digestion after two to three weeks.

Increased milk production

Multi-year research shows that cows that are supplemented with PrimeHumic in their feed have higher levels of fat and protein in the milk and have less production loss due to heat stress.

Healthier cows, less loss of milk due to use of antibiotics

Dairy farmers indicate that PrimeHumic contributes to fewer cases of mastitis and a faster recovery. PrimeHumic is also able to bind mycotoxins, which has a positive effect on (intestinal) health.